Siemens 1FK7 Servo Motor Repairs
Siemens 1FK7 Motor Repairs
A&C Electric technicians repair Siemens 1FK7 servo motors for businesses across the country. With more than 10,000 repair jobs done, our specialist technicians are incredibly experienced with Siemens systems.
No one likes downtime from repairs, so A&C Electric technicians do everything possible to give you a shorter turnaround time. Our shop uses the best equipment to expedite the repair process. This includes the use of Siemens OEM components custom made to match your motor.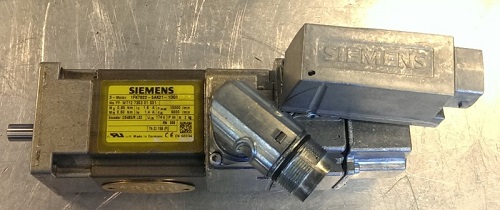 Once completed, your repaired unit includes a two year warranty. Check out our servo service report to see a sample of our Siemens servo motor repairs.
Replacement Servo Motors
Is your 1FK7 motor beyond repair? We carry more than 1,600 Siemens motor models available for exchange or sale. There are also refurbished units at a lower cost.
Whether you need repairs or replacement components for your Siemens 1FK7 motor, contact the expert technicians of A&C Electric.


A&C Electric is a certified distributor service center.